The story of  last month's deck collapse in Atlanta inspired me to do a bit more digging into deck collapse occurrences.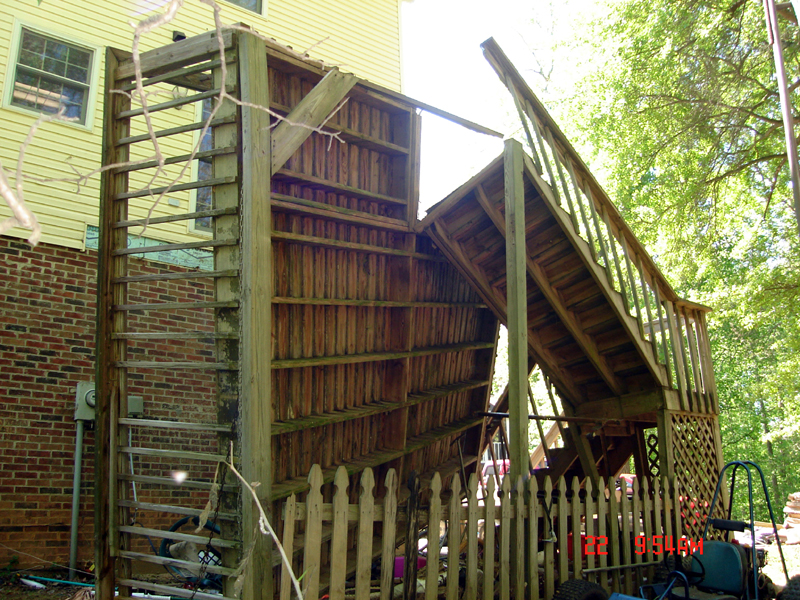 Deck collapse as a result of failure of the deck-to-house ledger connection
Ten years ago the Environmental Protection Agency began a process to restrict the use of Chromated Copper Arsenate (CCA), a chemical preservative that has been in use since the mid-1930s to treat the majority of lumber used for outdoor purposes. The preservative was widely utilized in the treatment of decks and playground equipment because of its availability, low cost and ability to keep wood preserved up to 30 years. However, a preliminary study conducted by the EPA in 2001 and in-depth risk assessment studies in 2003 and 2005 showed that, given enough time and acidic erosion, arsenic can leach from CCA treated wood, potentially finding its way into the water supply. This posed a serious health risk to families and the environment, prompting action from government regulators to ban the wood-preservative from use in all residential applications in late 2003. CCA is still allowed for commercial and industrial use.
With the phasing out of residentially used CCA, a new preservative has been introduced by the name of Alkaline Copper Quaternary (ACQ). While lacking the health risks associated with CCA, ACQ only lasts a maximum of 10 years, after which there is noticeable wood rot and decay. Others have complained about ACQ's propensity to erode screws and nails far quicker than CCA ever did due its higher percentage of copper material. Numerous class action and individual civil law suits have been announced as a result of fastener corrosion in ACQ treated wood. Additionally, any homeowner who has built a deck or other outdoor wood structure since around 2002 has likely started seeing or will soon see progressive wood deterioration. These revelations have left some homeowners understandably upset.
Richard Kuhn, homeowner and IT professional, says that his deck is just around a decade old and already displays severe dry rot and cracking. "The deck was in bad shape when I purchased the house in 2005," Kuhn says. "So, I decided to leave it thinking I would rebuild at some point." However, with the harsh economy in the years following Kuhn says he never got around to it. "Now the side rails are wobbling, and it seems like the deck just wasn't constructed properly." Kuhn says he regards the deck as a safety hazard but just can't do anything about it at the moment. "I think whoever built the deck built it the easy way, not the right way."
Deck owner Grayson Davis says he's in a similar situation. "My deck's only about 10 years old, but the peeling boards and nail pops are coming up out of nowhere." Davis says that while his deck seems safe now, he's not sure how much longer that will last.
A study conducted by researchers at Virginia Tech, Professor Joe Loferski and Professor Emeritus Frank Woeste, found that from January 2000 through December 2006, 179 deck collapses were reported in the United States, resulting in 33 deaths and 1,122 injuries. June and July are the months in which deck collapse most frequently occur, the study found. 90% of all reported deck collapses were accounted for by failure of the house-to-deck ledger connection. This connection "involves failure of the rim joist from the house floor joists, the separation of the ledger board from the rim joist, and the separation of the ledger board from deck joists." This essentially means that the primary connection between the deck and the house weakens over time, leading to eventual structural failure because the deck is unable to stand on its own.
Despite the fact that decks and homes are held to the same building code standards, decks are far more likely to undergo structural failure. The study noted a serious lack of information available to the general public, adding that "Deck collapses are not tracked, nor are reports of collapse available from rescue services, local building code officials, police, national associations, or government agencies." Disconcertingly, deck collapses are treated as isolated events rather than as a systemic and largely avoidable problem. Most concerning is the study's find that the number of deck collapses has been on the rise over the past decade. Some maintain that the majority of problems lie in how the decks are built, not only in the problems with ACQ, which are notable in and of themselves.
Homeowners are not the only ones to focus their ire on wooden decks. In an interview with the Connecticut Post, Jim DeStefano of DeStefano & Chamberlain Inc., a structural engineering firm in Fairfield, Conneticut, DeStefano brought to light the shortcomings of exposed, outdoor wooden constructions. "Wood decks have always had dramatically higher failure and collapse rates than any other wood structure," he said in the interview. The problem, according to DeStefano, is not "just an age issue," rather he feels it is a combination of factors, including "shoddy construction, weathering, and heavy loads." Overloaded decks are certainly a key factor; however it is unlikely that the average homeowner, holding a Memorial Day barbecue or other social event, will have the presence of mind to ensure his or her wooden deck is capable of holding family and friends. Precisely for this reason, homeowners should be educated in the dangers of and alternatives to wooden structural supports for residential decks. 
The website deckfailure.com compiles stories of wooden deck collapse, often with injuries or fatalities involved, highlighting the need for an overall increase in deck safety. A recent "viral video" found on youtube shows a group of teenagers from Churubusco High School in Fort Wayne, Indiana, taking pictures on a wraparound deck before their high school prom. As seen in the video, the deck collapses very suddenly, but results in no injuries.  Such incidents are a microcosm of the dangers of deck collapse to homeowners and their families.
So then the question arises: What can be done to improve deck safety? One company, The Steel Network, claims they have a "Steel Smart" structural solution. Unlike wood, deterioration of steel is generally a nonfactor, and structures made of steel last ten times longer than those made of wood. A steel structure can be topped with concrete or tile and made to look like any other deck and lattice or other coverings can be used to conceal framing underneath. However, manufacturers of steel looking to sell in the residential deck market must overcome the stigma that steel is for commercial or industrial use only.
For now, wooden deck structure remains the most popular, but with fatal and injurious accidents on the rise, as well as the decrease in the average life span of a wood deck because of the use of CCA, consumers may start looking elsewhere. Until then, homeowners are advised to ensure their decks are properly inspected and up to local building codes. The loads decks carry are too important to fall.