The construction industry is challenging the world limits. In Dubai, Palm Jumeirah is a great evidence to that. Dubai is considered a small city with limited shores on the sea. In order to increase it's shores to attract more tourists, Dubai's government was trying to find a shape that has most exposure to the sea. Palm tree shape was their choice. which adds 78 kilometers to the Dubai coastline.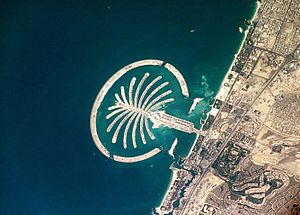 The company responsible for managing this project is Nakheel which is a company owned by Dubai government in United Arab Emirates. The project was designed and developed by HHCP architects. It is one of three planned islands called the Palm Islands.
This video is the detailed construction of the artificial island. enjoy!