Capital Gate

Location: Abu Dhabi, UAE
Date Built: 2011
Designed by: RMJM Dubai
This building is one of the tallest buildings in Abu Dhabi with 160 meters (520 foot) and 35 stories. Moreover, it has been declared by the Guinness Book of World Records as the "world's furthest leaning man-made tower." This Structure leans 18 degrees which is four times more than the Leaning Tower of Pisa.

The Piano House

Location: Anhui, China
This giant shaped piano is a great attract for the visitors in China. The violin which is made entirely out of glass is the entrance of the house. This Violin, also, serves in linking the elevated piano to the ground. The open top of the piano serves as a cover for the home's roof terrace.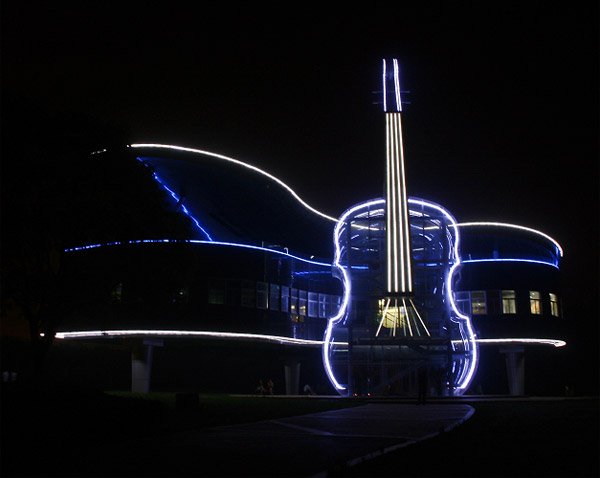 National Centre for the Performing Arts

Location: Beijing, China
Date Built: 2007
This building resembles an enormous egg, lying in an artificial lake. It is all made of titanium and glass. The view of that building is really amazing especially in real-life view. The building, unlike the new Chinese building, took 6 years to be built which is considered very long compared to the modern Chinese buildings.
The Niteroi Contemporary Art Museum

Location: Rio de Janeiro, Brazil
Date Built: 1996
Designed By: Oscar Niemey
This spaceship building is a real masterpiece. The architecture wanted to show as if this building is built in outer space. The structure is 16 meters high with a diameter of 50 meters. The museum is an amazing place to visit as it sits on a cliff on top of a beach.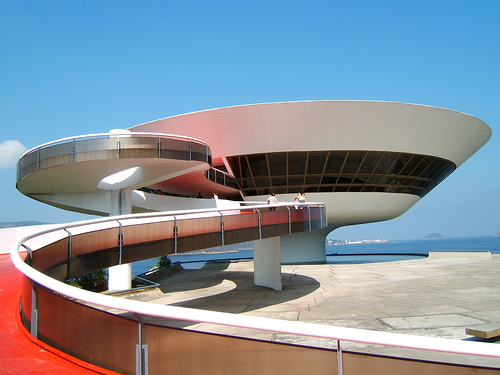 Dancing Building

Location: Prague, Czech Republic
Date Built: 1996
Designed by: Vlado Milunić & Frank Gehry
The reason it is called the dancing building is because of its shape. This is a wonderful architecture work which has its own romantic attraction. The top floor of Dancing House is home to one of the city's leading restaurants where diners can enjoy delightful cuisine and splendid views over the river and up to Prague Castle.
Links:
http://www.amusingplanet.com/2013/03/capital-gate-building-leaning-tower-of.html
http://architizer.com/blog/chinas-crazy-piano-and-violin-house/
http://www.youramazingplaces.com/top-10-strangest-buildings-in-the-world/